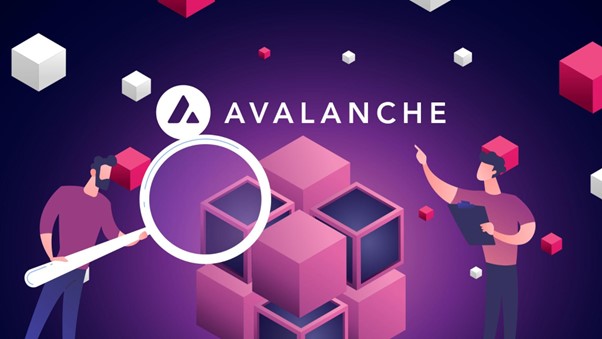 Avalanche is a blockchain project which was founded in 2018 by co-founders US-based tech entrepreneurs Emin Gun Sirer, Kevin Sekniqi and Ted Yin.
The Avalanche C-chain refers specifically to the contract layer, where smart contracts are built and launched. In order to better understand the C-chain, a look at the entire ecosystem could offer significant insight to help make the process of comprehension much more seamless.
What Avalanche Was Developed To Address
Avalanche was designed with a unique underlying network infrastructure that was established with an aim to implement greater levels of scalability specifically amongst smart contract-powered platform models.
Avalanche has a consensus mechanism unique to the network, which makes the platform and its smart contracts completely compatible with Ethereum's EVM standard. Avalanche smart contracts are therefore capable of interacting within the Ethereum network infrastructure without any further intermediary. The development of smart contracts native to the network is done on the C-chain which will be covered further below.
Transaction speeds and cost of transactions are efficient within the Avalanche network, without compromising security in any way, while upholding genuine decentralization. There are multiple consensus mechanisms which function within the Avalanche network design. Two consensus algorithms in particular, are employed in order to secure the three independent, interactive blockchains that work together within Avalanche's blockchain network – the Avax consensus protocol and the Snowman consensus protocol.
Three Avalanche Chains Introduced And Explained
According to Ava Labs platform and consensus whitepapers, Avalanche uses three different blockchains as part of its method to enhance scalability and overall speed. The three chains at work within the network design are organized in a way to distribute necessary processing functions occurring within the platform in order to maximize speed, and help to overcome unforeseeable snags that can slow a blockchain ecosystem down.
The X-chain in Avalanche's network is responsible for exchange and transfer related processing. The Avalanche X-chain is designed to facilitate all functions needed to process exchange and transfer of the AVAX token, and all other tokens which operate on Avalanche.
The X-chain implements the Avax consensus protocol, unlike the other two chains which both execute the Snowman consensus protocol, the second of the two consensus algorithms in operation within the Avalanche network.
The Avalanche P-chain enables subnets to be created while also tracking them in the functionality of the blockchain as well. The P-chain also coordinates network validators. Sets of validators are made up of these subnets which are used to provide consensus for custom blockchains developed on the decentralized platform.
Finally, the C-chain in the Avalanche network stands for contract. The contract chain is the environment in which smart contracts can be programmed and deployed in order to develop and launch dApps (decentralized applications) on the platform.
DApps are interoperable with EVM in the C-chain, giving developers the ability to build EVM-compatible applications. Gas fees on the C-chain are paid in AVAX and burned.
What Is Different About The Avalanche C-Chain?
The Avalanche C-chain stood out as the network was being developed due to the blockchain being inherently compatible with EVM. DApps developed on Avalanche are inherently interoperable with Ethereum, which is by far the leading smart contract-powered decentralized network.
ETH is the top altcoin, only second to Bitcoin, and while AVAX has fluctuated much in 2022 along with the rest of crypto, Avalanche price is currently at $11.88, while being ranked number 18 among all cryptocurrencies including BTC, altcoins and stablecoins.
Avalanche's C-chain therefore perhaps could be said to offer extended reach just by virtue of the designed interoperability which opens up a vast world of increased network users and liquidity for native Avalanche developers.
How Does The C-Chain Compare To Ethereum?
Avalanche offers almost a mirror reflection of the base functionality offered on the Ethereum network, yet the Avalanche network enables developers to create and deploy dApps on both Avalanche and Ethereum. This could be said to automatically provide a fundamental advantage in that regard, to building on Ethereum which will not grant inherent interoperability with Avalanche or any other blockchain for that matter.
Like Etheruem, Avalanche has its own independent virtual machine, the Avalanche Virtual Machine (AVM). Its functionality is said to be very similar to Ethereum's EVM standard which governs its blockchain rules that all deployed token assets must follow on the network. An AVAX fee is paid when tokens are created and minted, a function which is isolated to Avalanche's X-chain.
Transactions on the Avalanche blockchain are also generally faster and less expensive than Ethereum, while Avalanche also boasts of considerable scalability due to its three-chain functionality. Even upon completion of the final phase of the Ethereum Merge which is expected later in 2023, Avalanche is still anticipated to be both faster and less expensive than transactions along the Ethereum blockchain network.
How Does The Avalanche Implementation Compare To Solana?
Solana is another smart contract platform which closely resembles Ethereum in that regard. In fact, Solana and Avalanche are also extremely close in resemblance, as both networks are considered third generation platforms, compared to the second generation smart contract platform, Ethereum.
While Solana concentrates on speed and efficiency, security has become a pain point for its blockchain, as 2022 has seen multiple breaches affect the network. Moreover, crippling network outages have occurred multiple times since 2020 on the Solana platform.
All things considered, Solana is faster and less expensive than Avalanche, however, the issues experienced by Solana raise questions over what the near and more distant future will look like for the blockchain and its native token.
Most recently, Solana's ties to fallen crypto giant FTX and Alameda Research have brought further challenges. Solana confirmed that it had $1 million locked in the FTX exchange, now held in bankruptcy custody, and FTX holds a value estimated between $650-$700 million USD in Solana's native token, SOL.
While it was just recently a top 10 cryptocurrency, for now SOL sits just two positions above Avalanche at the time of writing, as the number 16 ranked cryptocurrency asset.
Progressing Through Challenging Market Conditions
Avalanche and its custom three-chain network design continues to develop towards solving issues met by the platform and also professionals engaged and building within the blockchain sector. Perhaps elements of the project are as strong and promising as always, and as the air clears from what has been a very bearish market through most of the year will prove to be a season which will soon be behind the network for even more productivity ahead.